Chemistry between Dakota Johnson and Jamie Dornan is undeniable. When we see the through the screen, it seems like they could be dating in real life.
But believe it or not, the hottest scenes, which are very important for the storyline, were harder for the actors to make than what some people may imagine. According to what the actress Dakota Johnson said, the first time they had to record a sex scene for Fifty Shades of Grey she was "petrified", but later, during the second movie it was easier, given that she had established a friendship with Jamie Dornan.
Jamie also said that he had joined the cast just five weeks before they started filming the first movie, and at that time he met Dakota. It's been three years now, and Dakota and him are very close.
But Dakota Johnson has a trick to relax before doing all those erotic scenes you all love: she drinks a little whiskey while Jamie Dornan does some push-ups!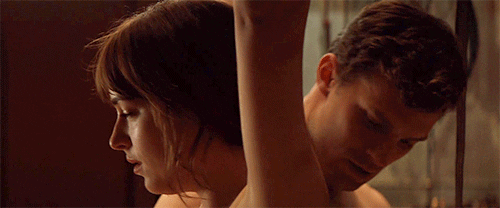 She also said that she added a little mint to her whiskey… why? Well, those kisses have to taste super fresh!
There's no doubt that these films have found a loyal audience (the fandom!) and they are all waiting for romantic scenes… not only erotic ones, but in Fifty Shades Fred, fans are waiting to discover the sweetest side of Mr. Grey. Because what's better than a man who can be sexy but also cute and kind?? Specially now that *SPOILER ALERT* during this last movie, he will become a father.
Fifty Shadows Fred is directed by James Foley and starring Jamie Dornan, Dakota Johnson, Arielle Kebbel, Tyler Hoechlin and Max Martini. It will be released in February 2018 in the United States, and it is, of course, based on the book by E.L. James.